Photoshop is an excellent image editing software that many people use to edit their photos. There are many tools in Photoshop for editing your photographs, but the best photoshop tools to use depending on what you want to do with them.
When editing your photos, you want to use the best tools available. Again, you can edit a single image in different ways. So, it becomes more complex for a newbie to find the best photoshop tools for editing purposes.
In this post, you will get a complete solution to this problem. We are very experienced in photo editing. Since ten years, we have been providing professional image editing services to our clients. From our experiences, we found some best photoshop tools for perfect photo editing.
In addition, we categorize the tools into three types, including general purposes like basic editing, image selection, and creative photo retouching.
At the end of the post, you will find some great photoshop tools to make your images extraordinary. So, let's start to find the best photoshop tools for image editing.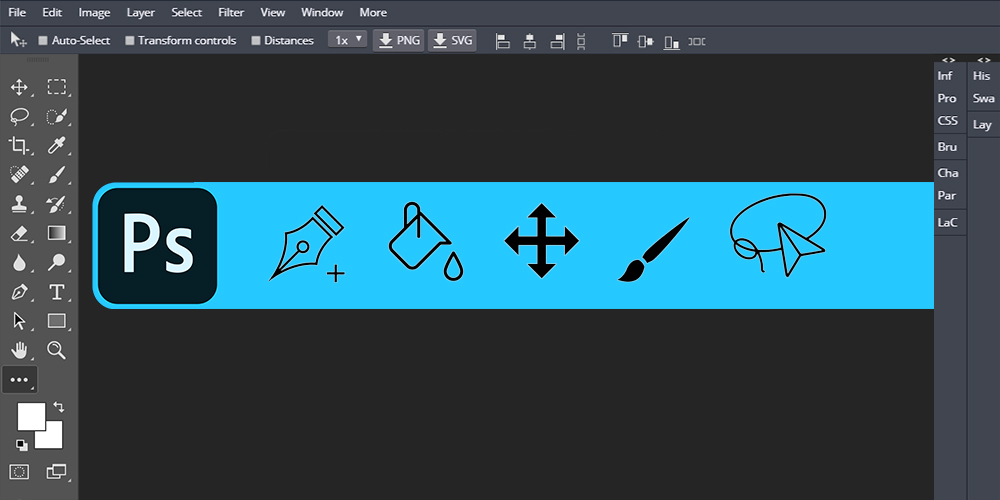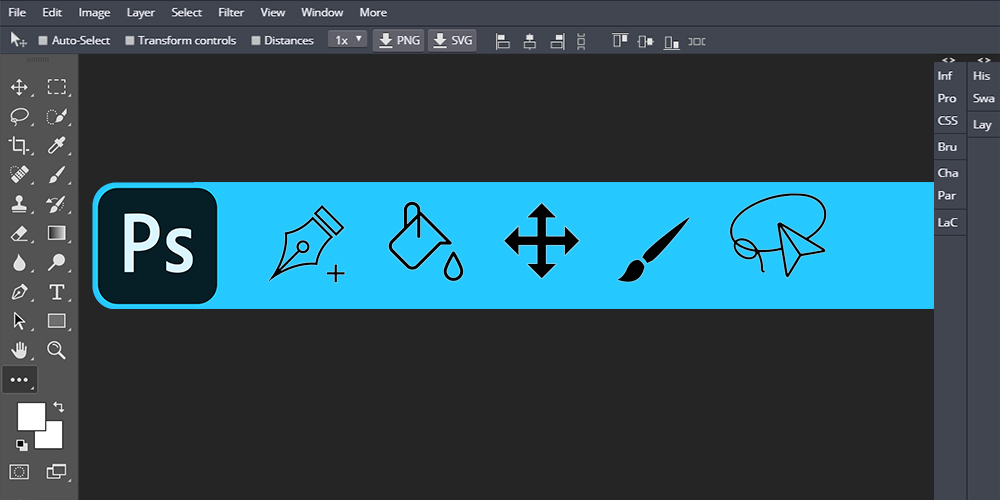 List of Best Photoshop Tools For mastering In Editing
If you are looking to take your photo editing skills up a notch, then you need to be a master at some of the best Photoshop tools. These tools can help you make quick and easy adjustments to your photos, giving them a professional look. So, whether you are just starting with Photoshop or a seasoned pro, be sure to check out these tools!
Best Photoshop Tools For General Purposes
Photoshop is one of the most popular tools for photo editors and photographers. A photo editor can use many tools to create attractive images with Photoshop, but some are more basic than others. Below, we discuss the best photoshop tools for basic editing; specifically, we use this tool for general editing purposes.
Move Tool
The move tool in Photoshop is a great way to relocate objects in your photo quickly. This handy tool makes it simple to reposition elements without resorting to using the selection tools.
You can quickly and easily move objects around in your image with just a few clicks. So, whether you're looking to move a single object or an entire group of objects, the move tool is worth checking out.
Text Tool
Adding text to photos is an excellent way to add emphasis or clarity. You can add text to your photos using the photoshop text tool. It comes with a "T" Photoshop tool icon.
However, the text tool provides various options for typesetting and formatting your text, making it easy to create a polished and professional-looking image, including font type, size, color, and alignment.
Crop Tool
The crop tool is one of the best Photoshop tools for general use. It is used to crop an image to a specific size or aspect ratio. It works excellent to straighten an image or remove unwanted areas from an image.
In addition, It does not erase or delete anything from the original photo, which means that you can always undo your edits. Though it is a fundamental tool, it is essential for photo editing.
Brush Tool
The brush tool in Photoshop is a versatile tool. You can use it to create digital paintings to touch up photographs. Brush size, shape, opacity, and color are all adjustable with this tool. The key to mastering the brush tools lies in understanding how they work on different media types.
It allows you to paint your image with various brushes, strokes, and colors. However, you can create all sorts of effects, from simple lines and shapes to intricate textures and patterns. In photoshop, you will find this tool by pressing the keyboard short cut key "B."
Gradient Tool
The gradient tool creates gradients in images by applying one color across the canvas and then gradually transitioning into another, giving it a smooth effect. Using the right colors for this process is essential because you want your image to look aesthetically pleasing when finished.
You can also change how gradual or quick the transition between colors is with sliders on the side of the screen. So, you have more control over what your final product looks like. However, If you're looking for an easy way to spice up images, adding some gradients might be just what you need!
Zoom Tool
The zoom tool is a powerful addition to any photographer's arsenal. It allows the user to quickly magnify an image without changing the resolution or cropping it. The zoom tool can be used in many different ways, but here are just a few examples of how you might use it:
-To inspect pixels for noise and sharpness at high magnification
-To check the focus by zooming into specific areas of an image that will be printed large (such as making sure your logo is crisp)
-As a way to see detail up close on features like leaves, flowers, or bugs
Hand Tool
The hand tool is an essential part of Photoshop, which allows you to move objects freely on the canvas. You can also use this tool to resize or rotate canvases.
It can be described as a navigation tool. When someone zooms closely, it becomes unable to view the entire portion. This hand tool helps to view others' parts too. So, its function is to give access to view the full image in zoom mode.
Best Photoshop Tools For Image Selection
There's no shortage of tools available to you when it comes to selecting photos. Photoshop offers a wide range of selection tools that make the process quick and easy. Below, we'll share some of the best photoshop tools for selecting images. Let's get started!.
Pen Tool
The pen tool is one of the best photoshop tools because it allows you to create precise shapes and lines in your image. You can also use it for drawing objects, which is great for adding detail to a design or drawing. The pen tool consists of four main options: "Add point," "Delete point," "Create shape from the path," and "Close shape." Each option will allow you to control how the line interacts with other points on that same line.

In addition, it works great for creating clipping path in any object. Every professional photo editors use this tool for creating vector path manually. The most beauty of this tool is its manual controlling capability. So, if you think about becoming a master in digital clipping path services, operating this tool is a must for you.
Magic Wand Tool
The Photoshop Magic Wand Tool is a selection tool that selects all contiguous pixels of the same color. Editors can select objects with simple colors or complex patterns with similar colors by using this tool. The magic wand helps select an object to apply a filter or action.
To use this tool, click on the area you want to select, and it will be automatically selected. If any surrounding pixels are not the same color, it will ignore them. However, it is an excellent tool for quick selections, but it can sometimes produce unwanted results. So, be sure to zoom in close to ensure your selection is accurate before clicking on the desired area.
Marque Tools
The Marquee tools allow you to select specific areas of an image for editing or adjustment. It can be a game-changer when you need to make quick changes. There are 4 types of Marquee tools; rectangular marquee, elliptical marquee tool, or two single line shapes. You can use any of them depending on what you need.

After selecting the areas, you can edit, crop, or copy them. Again, it is a primary selection tool in photoshop but much helpful; if you can use them correctly.
Lasso Tools
Lasso tools are a set of specialized selection tools in Photoshop. These lasso-like tools allow you to make freehand selections with the mouse and refine them using various commands. Lasso Tool is one of the powerful tools in Photoshop, allowing you to draw a shape around any area you want to select or deselect.
The other types of lasso tools include polygonal lasso, Magnetic Lasso. Polygonal lasso tools are used in Photoshop to create a selection of a specific shape.,This tool creates straight lines between points that you select, making it perfect for selecting intricate shapes.
Magnetic lasso tools are one of the most popular selections among Photoshop users. The tool uses magnetic properties to help create a selection border around an object in an image, making selections much easier and more accurate.
However, it does this by tracing the object's edge you want to select. In addition, it can be beneficial when isolating a specific object in an image. But, the best way to use this tool is to zoom in on the area you want to select and trace around it slowly.
Color Range Tool
One of the best Photoshop tools for selecting colors of an image is the color range tool. With this tool, you can choose specific colors in an image and change them however you want. 
By pressing (Ctrl or ⌘A), you can select the entire image. Then, select the color range tool. You will find this tool from the drop-down menu of the select menu. In here, choose sampled colors. After that, click on the colors of your image. Finally, similar colors of your image will be selected automatically. 
Photo editors love this tool for selecting or isolating the colors of an image. If you need color separation selection, this is an excellent tool. 
Quick Selection Tool
The Quick Selection Tool is another excellent selection tool in photoshop. It is effortless to use and can make selections on images with ease! This tool does not require any advanced editing knowledge, but you can edit select parts of an image. In addition, this tool uses intelligent edge detection to select areas close to the edge of an object automatically.    
Best Photoshop Tools For Photo Retouching
Creating an eye-catching first impression is essential when attracting new clients and customers. Photo retouching techniques are a great way to make an image pop up. There are so many tools and ways to make your photos look perfect. But what are the best photoshop tools for photo retouching?

Luckily, we have you covered with this blog post! It will give you a list of all the top photoshop tools that will help you achieve that flawless look on any picture. So without further ado, let's jump into our list!
Healing Brush Tool
The healing brush tool in photoshop is a powerful tool that can be used to heal or patch images. The healing brush tool works by copying pixels from one part of the image to another. This makes the healing brush tool a great way to fix slight imperfections in an image.    
Spot Healing Brush Tool
The spot healing brush tool is a great tool that can be used to fix the imperfections of photos. With this tool, you can quickly and easily fix blemishes or spots on your photos. It works like the healing brush tool. But, the only difference between them is that it doesn't need to sample pixels to fix imperfections of photos. The spot healing brush tool automatically matches the sample from the adjacent pixels.
Red Eye Tool
Photoshop has many tools, but one of the most underrated is the red-eye tool. Generally, photo editors use the red-eye tool to remove or change the color of a person's eyes in an image.
After selecting the area, you must choose your desired effect (reducing size, changing color) and adjust other settings as needed. There are also options for adding white pixels around the iris and pupil if desired, so you don't have any blank spots left behind after editing out some red-eye glow!
Dodge and Burn Tool
The dodge and burn tool is one of the most essential tools in photoshop for photo editing. It allows you to lighten or darken specific areas of your photograph, depending on what effect you are trying to attain.
The dodge and burn tool has three main functions: "dodge," "burn," and "shade." Dodge will lighten an area, while burning will darken an area. Shade can be used as both if you want to have different parts lighter or darker than others in the same image.
Blur and Sharpen Tool
 If you're looking to add a blur effect to your images in Photoshop, the blur tool is the perfect option. The blur tool allows you to soften or blend an image, which can help eliminate unwanted objects in the photo. You can use it to soften edges or create a dreamy effect. However, you can blur images entirely or partially by using this tool. Again, it is a powerful photo retouching tool.
Clone Stamp Tool
One of the best photoshop tools for photo retouching services is the Clone Stamp Tool. It allows you to copy pixels from one part of an image and paint them over another area to fix imperfections or remove distractions that may ruin an otherwise perfect photo.
Patch Tool
The patch tool allows you to remove blemishes or unwanted objects from your photo. It's super easy to use, and you can make it as large as you want. With the patch tool, all you have to do is click on a spot where there isn't anything wrong with the picture and drag over the area that needs fixing. Photoshop will fix your problems. 
Conclusion
With so many great tools in Photoshop, it can be hard to know which ones are the best. From masking and selections to color correction and photo editing, there is a lot that you can achieve with these photoshop tools. We've shared our favorites for your consideration, and these tools are the best photoshop tools.

If you find something else tool that is working fine, we didn't add them to the list. Let us know the below comment. We will appreciate your contributions.
Read also
how to change skin color in photoshop
how to remove shadow in photoshop
how to create shadow in photoshop
how to cut out image in photoshop
how to make transparent background in photoshop