If you want to avoid such labor-intensive work and focus on your routine work, finding the best clipping path service provider is the only solution. Great service providers always value their clients. They also deliver high-quality results. But how can we find them?
It is true finding the best clipping path service provider isn't an easy task. Lots of research and testing are needed for this. Because thousands are clipping path service providers prevail online.
However, we will discuss some proven ways to find out the best clipping path service partner.
Let's find out.
How to choose the best clipping path service provider
Ask your colleagues
You may be surprised to hear my suggestion. Instead of online searching, why am I advising you to ask your colleagues? Okay, sometimes it works well. You may find your right partner without searching much. Significantly if you are too busy a person, this may help you.
Nobody takes services without testing. If your colleagues take the benefit from a photo editing company, this means they already tested that company. If they are satisfied with the service, the opportunity is bright to satisfy you also.
It may save time. So, ask your friends first where they take the Photoshop silhouette service.
Use Social Media
Social media is a great community place. We often share our emotions, thinking with others. With the power of social media, you can solve your problems. There are many good mentality people. If you share your problem with them, the opportunity is very high to get the solutions immediately.
Moreover, most often, you will get an honest review from them. All you need to do joining some groups where people discuss your problem. If you find the right group, the solutions are very near to you. Here, you may get confused because you will get an extensive list from social media. So, you have to test them manually before choosing a service partner.
Be local
Almost every service provider showcases their service in local directories. If you wish to work with a local company, these directories may help you find the right partner.
The process is almost the same. Collect a list of the service provider names. After that, contact them. Then, sending some files for editing. Don't worry; you don't need to spend any penny. They are eager to do it cost-free. If you become satisfied with their service, only then deal with them for future projects.
Outsource from popular networks
Using outsourcing networks could be your best option if you want to avoid hassles and get an excellent photo editing service. In these networks, you will find lots of professional sellers. The benefit of using networks of timely delivery and professional level service.
If you don't satisfy with the service, you can tell them to do it again. Moreover, you have the opportunity to cancel the order; if your seller is unable to deliver timely with satisfaction. However, you need to pay money in advance for the service you want to take in all marketplaces. Outsourced networks release the funds to sellers after delivery.
Another demerit of using outsourced networks is paying some extra money. That's the benefit of these networks. Though you need to spend some extra money, it can help to find the right service partner. Once you can trust each other, you can deal with sellers outside the networks.
There are lots of marketplaces online, including the most popular like Fiverr. Upwork, Freelancer.com, People per hour. Try any one of them to find the best clipping path service, provider.
Things you should consider while hiring any service partner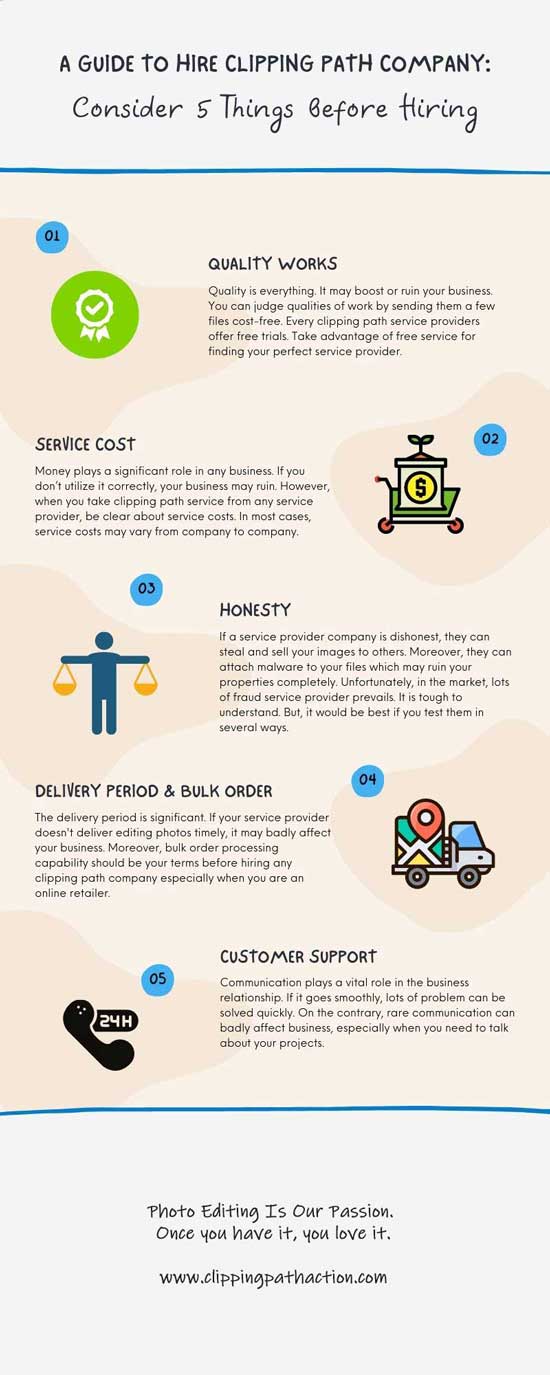 In cases of hiring your clipping path service company outside of outsourcing networks, you should consider some things, unless you may lose your money and destroy your business also. Below, I am talking about some crucial factors that you should consider.
Money plays a significant role in any business. If you don't utilize it correctly, your business may ruin. However, when you take photo editing services from any service provider, be clear about service costs. In most cases, service costs may vary from company to company.
It will help you to consider your budget in photo editing. In eCommerce industries, while you order bulk photo editing, it is essential to fix service costs before taking any service.
Moreover, payment methods should be precise. In our experience, most of the service providers company located in the sub-continent. All the payment methods aren't acceptable in these countries.
So, It may create a misunderstanding between both of you. However, you may need to pay weekly, monthly, or project basis. Whatever you want to use, tell your service provider about it early. If they agree with your payment types and conditions, work with them.
Remember, every business relationship depends on an explicit agreement. If both of them are well concerned about the contract, it may stay a long time.
Quality matters significantly in the photo editing industry. If you don't get a high-quality editing service, it may bring a loss for your business. So, please don't compromise with it. Though professional sellers always deliver high-quality work. Therefore, you may check some other service providers for comparisons of service quality.
Are your service provider honest in their tasks? In the market, lots of fraud service provider prevails. They can misuse your image property.
It is tough to understand. Most often, you need to trust them. However, you may justify; if they can keep your files safe and secure. If your service provider is dishonest, two major problems you may face.
They can steal your images and sell them to others. In some cases, they may use it for their business purposes.
They can attach malware or viruses to your image files. When you upload it to your website, it may attack with the virus. It creates horrible situations.
Though an honest service provider, never do this. They take every step to keep the client's files safe and secure. You may also check their file transferring system. It will give you an idea of whether it is safe or unsafe.
Moreover, you can keep a point about this in your agreement. If they misuse your files, you can take any legal steps against the service provider.
You may avoid these steps if you want to edit single or some photos. But, if you're going to edit batch photos, maintaining timely delivery is extremely important. It may badly affect your own business also.
Especially for product photography agencies maintaining time is extremely important. Because they need to deliver final images to their clients, it is a chain of work. If anyone breaks the chain, others will be badly affected.
Moreover, you may need to rush the delivery of some of your projects. It will be better to discuss with your service provider whether they can do it or not.
Again, in most cases, it is challenging to bring out great solutions for this problem. Some sellers may take orders trusting you that they can do this. They can't do this.
So, what are the solutions? In these cases, you may send them minimum files and carefully notice their delivery periods. If you see, they maintain time strictly; you can send them some more files. It will always be better to increase the file number slowly. Additionally, you can send file slots to multi-photo editing companies. It helps you to judge the quality of your work.
Another significant issue you should consider. If your service provider fails to respond to your email timely, it may badly hamper your business. In many cases, you may need to change instructions. The only way to do this contact customer support. So, be careful about this.
Read our similar articles
Conclusion
In conclusion, consider a few things when hiring a clipping path service provider. The first is the company's work quality, which will help ensure that the path they create is accurate and consistent across projects. Reviewing the company's pricing and customer support is essential to determine what is most appropriate for your needs. Finally, ensure image security before hiring a clipping path service provider.