Real estate photography is a great way to earn money on the side while pursuing your passion. If you're already a photographer, it's easy to learn how to take great photos of homes for sale and get started. Some people even make real estate photography their primary source of income!
Becoming a real estate photographer is an exciting and rewarding way to make money, but it takes time and commitment. It can be an excellent job for the right person. It is a challenging task, and not everyone can do it well.
What Is Real Estate Photography?
The definition of real estate photography is the art and science of taking pictures that are used to show properties for sale. Real estate photographers take photographs used in advertisements, brochures, websites, or other marketing materials related to a specific property. Real estate photographers can shoot anything from your house for sale (interior/exterior) to commercial properties like office buildings, warehouses, etc.
Therefore, they specialize in photographing homes and other buildings specifically for people who want to sell their property. These professionals must go through extensive training because they must learn all aspects of the industry, including taking professional-quality shots under different conditions. They also have to know how each property is unique, which means they might sometimes even need access inside a home if an owner wants them to photograph something specific like a fireplace or kitchen.
The photos should accurately represent the property's appearance so potential buyers can decide whether to buy it. 
Real Estate Photography is not easy! One has to have perfect lighting, know how different angles affect the look and feel and know when to edit photos. 
How To Become a Real Estate Photographer
Though real estate photography is not easy, it doesn't mean you can't be a good real estate photographer. We will go over what it takes to become a real estate photographer, along with some helpful tips that will hopefully guide newcomers through the process of becoming one themselves.
Knowing The Right Camera Equipment
Knowing the right camera equipment is essential if you want to become a real estate photographer. It can make your job easier and more efficient. Knowing which lens to use for close-up shots of homes is just one example of how this knowledge can help you in your profession. 
Camera
You don't need a costly camera for real estate photography. But, your camera should have multiple exposures bracketing and remote flash triggering. Both will help you to capture great photos. So, try finding a camera in your budget with both options. 
Wide-angle Lens
You should spend a very decent amount to buy a wide-angle lens. It is essential in your real estate photography. It will help to appear your photos more spacious. It will be better to buy a focal length 16-24 mm full-frame.
Tripods
It would be best if you considered their sturdiness and maximum extension height when you buy tripods. If your tripods can bear the weight of a camera and lenses, chances are great taking photos without blur.
Lighting
Though your target should be capturing photos with natural light, you may need to take the help of lighting tools. You can attach a flash in your camera body to fill shadows and illuminate a room without overexposure.
Learn and practice it in your works
Real estate photography is a vital service that has the power to make or break a sale. That's why it's so important for agents and brokers to seek professional photographers who can capture their listings in all of their best light while also bringing out their true character. When considering buying or selling a home, people often spend hours on realtor websites looking at pictures of available properties.
 If those images aren't of excellent quality, it could be the difference between making an offer and moving to another house. For this reason, agents always hire someone with experience taking high-quality photos every time they need new shots taken for your site or marketing materials. 
It's not enough to show up with a camera and take pictures; instead, you need an understanding of lighting techniques, composition, and more. You need to gather more knowledge utilizing your camera correctly and experimenting with taking photos. It will give you more confidence in taking great pictures.
If possible, connect with a professional real estate photographer and try to discover their ideas, skill, strong points, and everything that may help enrich your craft. Don't copy anyone; it may ruin your career. Rather than try to gather knowledge and implement it in your work differently. Finally, practicing will give you the confidence to take great photos. 
Become Proficient In Photo Editing
Many people are afraid of the idea of photo editing. Some have no idea what it is, while others are afraid to do anything with their images because they don't want to mess them up. But, as a photographer, you know how important it is to be proficient in this skill for your business. 
A good photographer will spend a lot of time learning and perfecting their craft, but even the best photographers need to know how to edit photos! 
Even the best photographs may need enhancements and adjustments. You may need to remove unwanted elements, applying photo retouching techniques to make it more attractive. However, If you don't know it, you can be a good photographer also. Online, you will find lots of outsourcing photo editing companies. You can hire any of them and get your expected result within your budget. 
In a nutshell, real estate photo editing is extremely important for making amazing photos. Photoshop is the best software for photo editing if you want to do it yourself. Try to become proficient in this software. You will be to create amazing photos with this tool.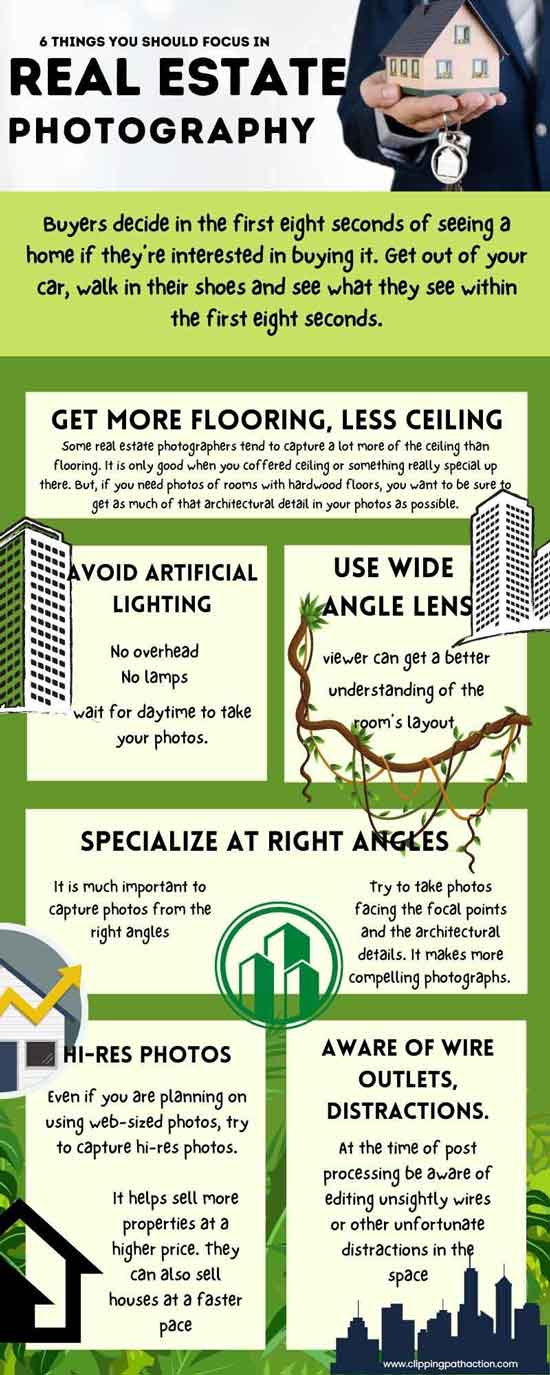 Creating Portfolio Website
As a real estate photographer, it is essential to create your online presence and showcase your work to potential clients. Additionally, it can help expand your business and make it easier to find you. 
This will give potential clients more information about who you are and what you do and allow them to contact you through the website.
Online presence is vital today for succeeding in any business. You need to take help technology to expand your business. It may cost very little. Start with the free website builder if you don't have any budget. They will allow you to create a free website using their platform. Almost all of them have a drag-and-drop page builder. So, without coding knowledge, you can create your website.
Promote Your Business And Get Clients
Promoting your business is a great way to get more exposure and create a buzz around the services you offer. For real estate photographers, promoting your work online is an effective way of getting noticed by potential clients. 
Online marketing can be as simple as creating ads on social media sites or posting content on different real estate photography websites. Once people start noticing your business, they will want to know how to book a session with you! 
If you don't have much budget for creating ads, you can do it cost-free. Joining local directories, Facebook groups, photography associations, activity in social media, and blogging in your and other websites on specific topics may help expand your business and ultimately get new clients.
It may take time, but it works. So, never give up with the lame excuse of an insufficient budget for promoting business.
Final Verdicts 
Real estate photography is a very challenging task. But, if you're one of those who loves to take the challenge and overcome it, then these tips are for you. Hopefully, if you follow and apply it in your professional life, you will get your desired results. With this, you need to grow other skills that may help you become a professional photographer, like interpersonal communication skills, basic computer skills, time management, and business management. 
Cheers
Related Articles
14 best photo editing software for photographers
Best camera for professional photography
9 best travel photography tips for beginners