Amazon is a retail giant that has revolutionized the way people purchase goods and services. Founded in 1994 by Jeff Bezos, the company now has over 1 million employees and operates in more than 30 countries. Amazon has changed the way we shop, making it easier to find what we're looking for and deliver it right to our door. Selling products using amazon platforms will be the best decision at the beginning level. But, you should follow amazon image size requirements before starting a business with Amazon.
What Is the Benefit of Selling Products Using Amazon?
Selling products on Amazon is a great way to get more traffic to your website and increase sales. By selling through Amazon, you can take advantage of the millions of customers already familiar with the site.
Not only is Amazon one of the world's largest and most popular online retailers, but they also offer a customer-centric platform that allows sellers to connect with buyers directly. This allows for increased communication and trust between seller and buyer, which leads to a higher level of satisfaction for both parties.
By using Amazon as your primary distribution platform, you can reach a wider audience than you would with other methods. Additionally, selling through Amazon presents many logistical advantages, such as quick and easy order fulfilment and access to a large customer base. Additionally, Amazon takes care of marketing and shipping for you. So, you can focus on creating quality products.
What Is Amazon Image Size?
The Amazon image size is a topic of much debate. Some users feel that the images are too small, while others find them too large. There is no right answer, but there are some things you can do to make your images look their best on Amazon. We tried to show the best amazon image size requirements including supported format, dimension, you are about to learn everything for using their platform.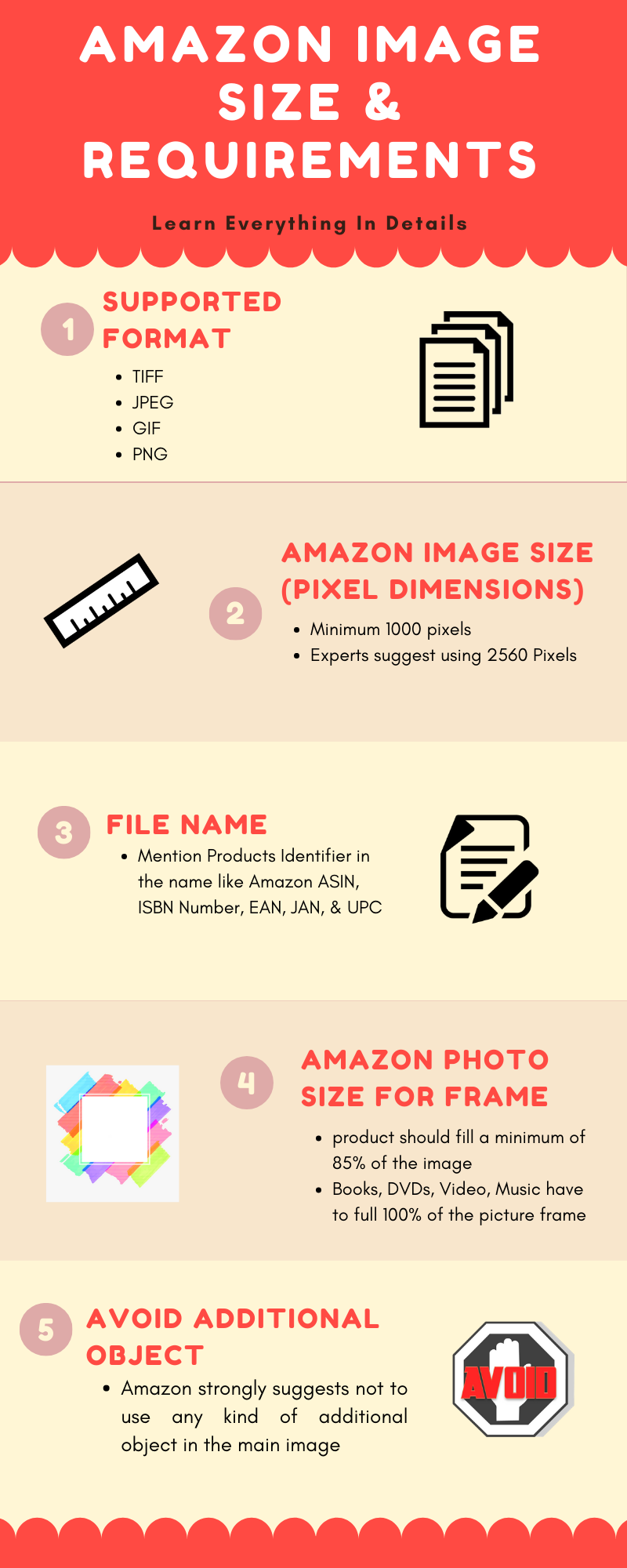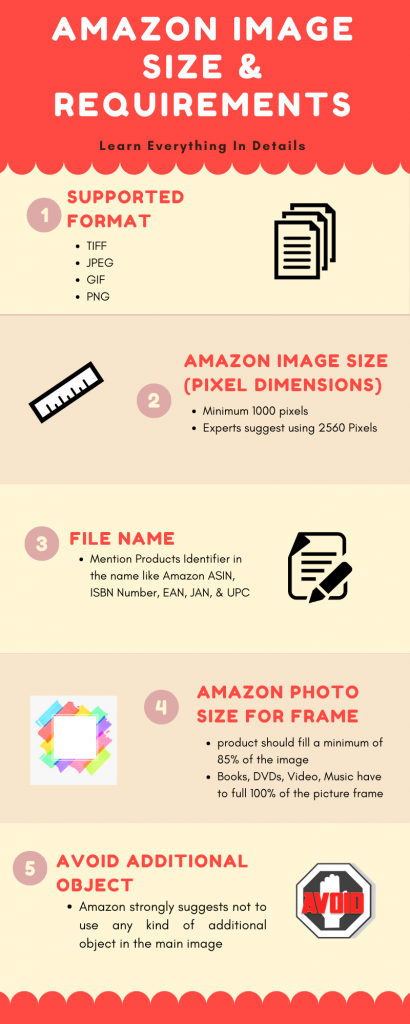 Best amazon image size requirements optimization tips & tricks
Technical Requirements for Amazon Product's Image 
Supported Format 
Amazon gives you several options at this point. You can set the file formats in three types: 
Normally, you can upload images in these formats. All of the formats are supported in Amazon. 
Amazon Image Size (Pixel Dimensions) 
Many people are confused about the product dimensions amazon format. The image should be a minimum of 1000 pixels. You can also increase the pixel in width or height. But, never decrease it under 1000 pixels.
Experts suggest using 2560 Pixels.  
Color Mode
You can use two types of color mode for the Products Image. These modes are: 
sRGB
CMYK
File Name
Do you know how to write the product's name in the correct format? Permit me to show you. 
You should mention Products Identifier in the name like Amazon ASIN, ISBN Number, EAN, JAN, & UPC. Don't forget to use the supported file extensions. 
Keep mind that you should not use any special characters, spaces in the product's name. If you do that, your products might not be visible online. 
Many customers complain that their images not showing in Amazon. It can be the cause of the problem. I hope you won't do the same mistake. 
Amazon Image Size Requirements for Frame
There are some people who fill only 70% to 80% of the frame with the product image. Don't do that mistake. Your product should fill a minimum of 85% of the image. 
N: B: For the products like Books, DVDs, Video, Music have to full 100% of the picture frame. Any kinds of stickers, Promotional Tags, cellophane are prohibited for these products. 
Other Requirements
Don't Crop the Image
You should not use any cropped image of your products. Amazon Image Size requirements don't allow any cropped or closely taken image. Keep a moderate distance at the time of capturing the Photo. Don't shake the camera at the time of shaking. It will make your object blurry. That's not recommended. Also, remember that your object should photograph professionally.
Avoid Additional Object
Amazon strongly suggests not to use any kind of additional object in the main image. Additional things like watermark, extra objects, texts are not allowed in the picture. You should also ensure that your full product is visible in the picture. If you are showing your product partially, it won't get approval on Amazon.
Use White Background
The background is a key factor here. If you do all other things perfectly but make mistake in choosing the background, your products won't appear live. Let's see what Amazon recommends for the background. 
Amazon Site Standards for Product Images suggest using a pure white background for the product's photo. Are you feeling concerned about getting a pure white background? You can do it using adobe photoshop. Don't forget to use the image clipping technique while changing the background. Otherwise, it may destroy image quality and your business also. If you don't know it, hire a background removal service provider for doing this perfectly.
Don't Use Mannequin
In Clothing Business, mannequin is a popular way to showcase products and dresses. But Amazon is a different platform. Amazon doesn't allow us to use mannequin with the product's Photo. Then how to display clothing items? Mannequin removal is the only solution. It allows consumers to see product images in deeper level. And, product images also able to draw attention.
Avoid pornographic Materials
Amazon is very strict about it. Never use any kind of pornographic material in the Amazon Product Photo. Otherwise, you may face the problem like products not showing in Amazon. 
Amazon Swatch Image Requirements
There are many people who are confused about amazon's swatch image size requirements. Are you also one of them?
Swatch Images are displayed for child products on the product details page. The Thumbnail size of the swatch image in 30 by 30 px. 
The advantage of using a swatch image is it helps the viewers to get detailed information. If swatch Image is Available with your product, set the thumbnail 30 x 30 pixels. Otherwise, it won't display properly. 
Use Photos from Different Angle
Amazon allows you to use up to 9 images per product. Just grab that chance. Some sellers use only two or three photos per product. Don't follow them. You should use at least seven photos. No, this is not a mandatory amazon image size requirement. But, to get a better result you should follow this. Don't stick with a particular angle. Present your products from different angles and views. It will give a more detailed view of the product. There is a possibility, it will engage more audiences. 
 Conclusion
In conclusion, it's important to keep in mind the Amazon Image Size Requirements when creating and selling your products. By using the right dimensions and optimizing your images, you can ensure that your items look their best on Amazon. Additionally, using Amazon's powerful search engine means that potential customers will easily be able to find what they're looking for. If you want great product photos, hiring a professional amazon image editing service provider will be your best bet. They know the marketplace and its guidelines well. So don't hesitate – start selling on Amazon today!
Read also
how to sell your photos on etsy
how to cut out image in gimp and photoshop
how to remove shadows in photoshop
adobe photoshop 2021 cracked version
best app for real estate photos
how to change skin color in photoshop